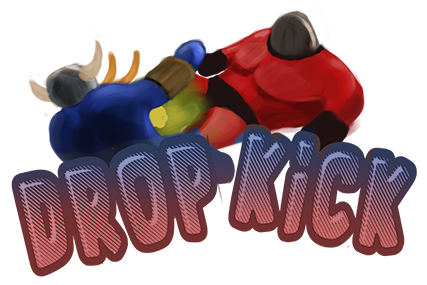 [Group 17] Dropkick
Last week our prototype was done and we have moved on to the next sprint.
In the art sector we have made a set of new maps so that we can test the capabilitiers of our fighters.
These new maps have height differences and holes. After we find a good balance in these we want to add the traps.
As for programming we did most work in the mid-week update. But after it we kept working and so we introduce you to our new working MAIN MENU! While this menu's art is deffinetly not final its implementation is fully working. Well I say fully working but there is 1 panel that isn't finishes yet and it might be one of the most important ones the option menu. Going to the more fun things characters have recieved a litltle punch animation that feels more natural. This animation is fully done with aplying forces since our characters are ragdolled and we want physics to keep doing its thing. Furthermore we have included a power up system. This system spawns power ups well currently those powerups only give you an attack boost but more is comming. We are almost at the end there is a small feature remaining and that is our scoreboard. Yes you can now see your score. Now you can fight and determine who wins you might expect the game to do this for you but that is someting for the coming weeks.
We are glad you stayed to end in this episode of Dropkick: The Devlog adventures! Peace out!